Strawberry-Banana Smoothie Pops
Turn a strawberry-banana smoothie, or your favorite blended concoction, into freezer pops for a cool treat.
Servings: 6
Yield: 6 (4-ounce) pops
Total Time: 360
Prep Time: 10
Recipe Ingredients:
2 cups frozen strawberries

1 medium banana

1 cup low-fat strawberry yogurt, or vanilla yogurt

1/2 cup cranberry juice cocktail, or pomegranate juice

1 tablespoon pure maple syrup
Recipe Steps:
Place strawberries, banana, yogurt, juice and maple syrup in a blender and blend until smooth. Divide among six 4-ounce freezer-pop molds. Freeze until firm, at least 6 hours.
Recipe Nutrition:
Per serving:
92

calories
;
1 g

fat (

0 g

sat,

0 g

mono );

3 mg

cholesterol;

21 g

carbohydrates;

8 g

added sugars;

2 g

protein;

2 g

fiber;

21 mg

sodium;

237 mg

potassium.
Watermelon Sherbert-
56 calories
-> makes 12 servings
3.
6 cup(s) watermelon, seedless, cut in chunks, seeded, (4-pound watermelon)
4.
2 tablespoon lime juice
1. Combine sugar and water in a medium saucepan. Bring to a boil over medium-high heat, stirring to dissolve the sugar. Reduce heat to low and simmer for 5 minutes. Remove from heat and let cool to room temperature, about 45 minutes. Cover and refrigerate until chilled, about 1 hour.
2. Place watermelon and lime juice in a food processor; process until smooth. Set a sieve over a large bowl and press the puree through to remove tiny seeds. Whisk in the sugar syrup.
3. Pour the watermelon mixture into a shallow metal pan and freeze until ice crystals form around the edges, about 30 minutes. Stir the ice crystals into the center of the pan and return to the freezer; repeat every 20 minutes until all the liquid is frozen.
1.
Serve immediately or transfer to a storage container and let harden in the freezer for 1 to 1 1/2 hours. Serve in chilled dishes.
Lime Sherbert Recipe
Ingredients:
3/4 cup boiling water
One envelope low calorie lime-flavored gelatin
1/2 cup sugar
1-1/2 cups buttermilk
1-1/2 tsp grated lemon peel
3 tablespoons lemon juice
Directions:
Pour boiling water over gelatin and sugar in bowl, stirring until both are
dissolved.
Mix in remaining ingredients.
Chill in freezer until thickened.
Beat mixture until foamy. Pour into refrigerator tray.
Freeze until firm.
Recipe makes eight 1/2-cup servings
(
70 calories each).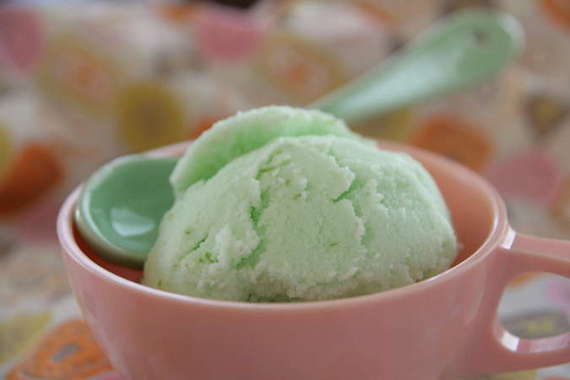 You could make it even lighter by using fake sugar instead.
1-1/2 cups all-purpose flour
1-1/4 teaspoons baking powder
1/2 teaspoon baking soda
1/2 teaspoon ground cinnamon
1/8 teaspoon salt
2 slightly beaten egg whites
1 cup mashed banana
3/4 cup sugar
1/4 cup cooking oil
Directions
1. In a medium mixing bowl stir together flour, baking powder, baking soda, cinnamon, and salt.
2. In a large mixing bowl stir together egg whites, banana, sugar, and oil. Stir flour mixture into banana mixture just until
moistened.
3. Spray an 8x4x2-inch loaf pan with nonstick cooking spray. Spread batter in prepared pan. Bake in a 350 degree F oven for
45 to 50 minutes or until a toothpick inserted near the center comes out clean.
4. Cool bread in the pan for 10 minutes. Remove from pan and cool thoroughly on a wire rack. For easier slicing, wrap the
bread in plastic wrap and store overnight. Makes 1 loaf (16 servings).
5. Make ahead directions: Cool completely. Wrap in foil, then seal in a plastic bag. Freeze up to 3 months.
Servings- 16 slices
Nutritional facts per serving
calories: 130

,
total fat: 4g
One serving equals
106 calories.
Makes 16 servings.
Ingredients:
4 egg whites
1/4 cup vegetable oil
2 teaspoons vanilla extract
1/2 cup all-purpose flour
1/2 cup sugar
1/2 cup packed brown sugar
1/2 cup cocoa
1/2 teaspoon baking powder
Confectioners' sugar
Directions:
In a mixing bowl, beat egg whites until foamy. Add oil and vanilla.
Combine flour, sugars, cocoa and baking powder; gradually stir into egg mixture.
Transfer to an 8 inch square baking pan coated with nonstick cooking spray.
Bake at 350-degrees for 15-20 minutes or until center is set.
Cool on a wire rack.
Dust with confectioners' sugar.
1/2c splenda
3/4 cup applesauce
1 cup ww flour
1 teaspoon baking powder
1/2 teaspoon salt
1/2 teaspoon ground cinnamon
1 cup rolled oats
1/2 cup raisins (optional)
1/2 cup chopped walnuts (optional)
-Preheat oven to 350 degrees F ( 175 degrees C ).
-Grease a cookie sheet. 2 In a medium bowl, stir together the splenda, and applesauce.
-Sift together the flour, baking powder, salt, and cinnamon; stir into the applesauce mixture.
-Add the rolled oats, raisins and chopped nuts (if desired); stir until combined.
- Drop by rounded teaspoonfuls onto the prepared cookie sheet. Bake for 10 minutes in the preheated oven.
-Allow cookies to cool slightly before removing from the baking sheet.
makes 24 cookies
NUTRITONAL INFO(per cookie):
recipe made with raisins & walnuts
58 calories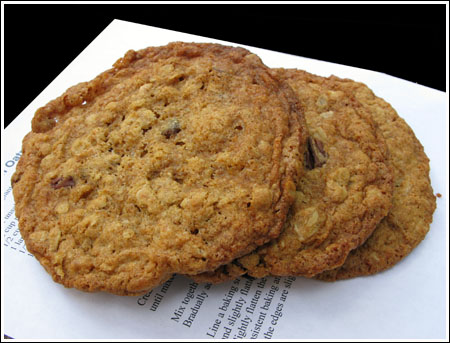 Chocolate Covered Bananas
1 tbsp of unsweetend coco
1 bananna
1 tbcp of splenda
slice the bananna to peices around the size of a quarter. put them in a baggie and and the coco and the splenda and shake.
Then use chop sticks * this is the fun part* and put them in a bowl and up some plastic wrap on top and place it in the fridge for
a while to get nice and cold...
I use the chop sticks to eat them so my fingers wont get messy and it slows down how many I eat at onc
calories:
100 for banana plus whatever amount of calories the coco is.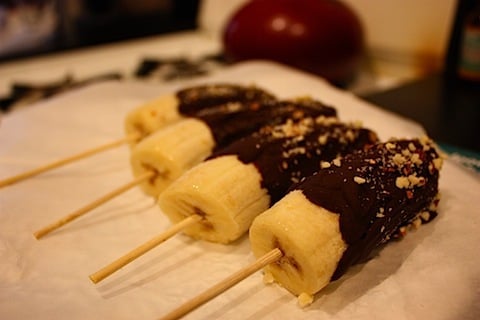 Servings: 8 (1/2 cup) serving
s,
Calories: 83
, Carbohydrates: 20g, Protein: 1g, Fat: 0g
2 c watermelon, cubed and seeded
1/2 c sugar
1 envelope gelatin, unflavored
1/3 c cranberry juice cocktail
1.

Place watermelon in a blender or food processor.
2. Cover and blend until smooth.
3. Stir in sugar.
4. In a small saucepan, combine gelatin and cranberry juice. Let stand for 5 minutes.
5. Stir mixture over low heat until gelatin is dissolved.
6. Pour and stir the gelatin mixture into the melon mixture.
7. Pour into an 8x8x2-inch baking pan. Cover and freeze for 2 hours or until firm.
8. Break up frozen mixture and place in a chilled mixer bowl.
9. Beat with an electric mixer on medium to high speed or until mixture is fluffy.
10. Return to pan. Cover and freeze for 6 hours or until firm.
Chocolate Carmel Popcorn
1/8-1/4 cup brown sugar (75 calories-150 calories)
1 tablespoon cocoa powder (10 calories)
1/8-1/4 cup water
2-3 cups plain air popped popcorn (20 calories per cup)
spread tin foil or waxed paper out onto a table, and spread popcorn out on top of that evenly, so it's all touching and close together, but not in a pile...
Then in a small saucepan, heat up on low-medium temperature the brown sugar, water and cocoa powder, stirring as it heats up, until its smooth and boiling slightly, but be careful not to burn it...
Then coat the popcorn with the mixture immediately, i use a spoon to drizzle/ladle it all over the popcorn...it dries quickly
Depending on amounts of everything used, it ranges from
125 calories to 220 calories
...it depends on personal preference I guess... I like over-the-top flavor, much more so then other people i know...so you'd have to play around to see what you like.
**a little time consuming soo..if your looking for a quick healthy snack just grab some fruit or pop some popcorn without the chocolate and carmel
Ingredients:
12 raspberries
1/2 water
1/2 cup any flavor juice
1small banana
5 strawberries
1/2 of an orange
Directions:
1. get a small tray around 7 by 5 inches and about 1 inch tall. Smash all the fruits together in a mixer add water and the juice, and then pour into tray.
2. Freeze for about 3 to 4 hours. When it's ready take out and cut 3 lines the long way and about 10 lines the wide way.
3. Now you have great tasting (and healthy) popsicles
Makes 3 servings
About 77 calories per pop
Fried Bananas
1 banana, sliced
1 teaspoon sugar or substitute
1 tablespoon no calorie butter or spray
Sprinkle sugar lightly onto bananas; melt butter in pan, then cook for about 30-60 seconds, until slightly squishy on each side.
About

160 calories per banana
This is to DIE for! Dessert, breakfast, or a snack its perfect!