Yogurt Parfait Recipe
Yogurt makes a great snack, but day after day it can get a bit boring. This is one way to make it a little more interesting.
1/8 cup fresh fruit (such as berries, sliced peaches, etc.)

1/8 cup low-fat or regular yogurt (flavor of your choice)

1/8 cup low-fat granola
Layer the different ingredients in a parfait glass and repeat layers.
Per parfait:
160 calories,
5 g protein, 32 g carbohydrate, 2.5 g fat (0.4 g saturated fat), 3 mg cholesterol, 2.6 g fiber, 96 mg calcium, 80 mg sodium. Calories from fat: 12%
Watermelon Sherbert-
56 calories
-> makes 12 servings
3.
6 cup(s) watermelon, seedless, cut in chunks, seeded, (4-pound watermelon)
4.
2 tablespoon lime juice
1. Combine sugar and water in a medium saucepan. Bring to a boil over medium-high heat, stirring to dissolve the sugar. Reduce heat to low and simmer for 5 minutes. Remove from heat and let cool to room temperature, about 45 minutes. Cover and refrigerate until chilled, about 1 hour.
2. Place watermelon and lime juice in a food processor; process until smooth. Set a sieve over a large bowl and press the puree through to remove tiny seeds. Whisk in the sugar syrup.
3. Pour the watermelon mixture into a shallow metal pan and freeze until ice crystals form around the edges, about 30 minutes. Stir the ice crystals into the center of the pan and return to the freezer; repeat every 20 minutes until all the liquid is frozen.
1.
Serve immediately or transfer to a storage container and let harden in the freezer for 1 to 1 1/2 hours. Serve in chilled dishes.
Lime Sherbert Recipe
Ingredients:
3/4 cup boiling water
One envelope low calorie lime-flavored gelatin
1/2 cup sugar
1-1/2 cups buttermilk
1-1/2 tsp grated lemon peel
3 tablespoons lemon juice
Directions:
Pour boiling water over gelatin and sugar in bowl, stirring until both are
dissolved.
Mix in remaining ingredients.
Chill in freezer until thickened.
Beat mixture until foamy. Pour into refrigerator tray.
Freeze until firm.
Recipe makes eight 1/2-cup servings (
70 calories each).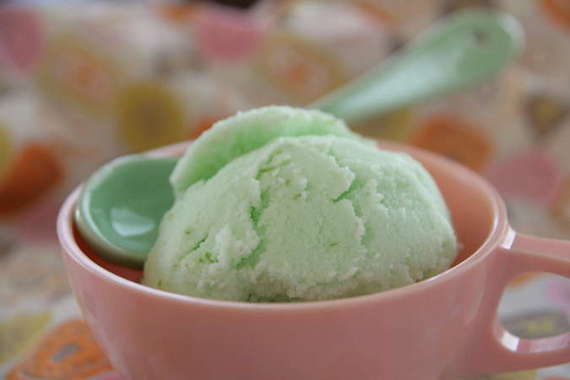 Warm Apple Delight
2 servings
-
56 cal
- 1 g protein - 0 g fat
2 red apples, cored and cut in half with skin
1 can diet black cherry or strawberry cola
pinch splenda
pinch cinnamon
1.Place apple in baking dish skin down. Pour cola over apple.
2.Sprinkle with splenda and cinnamon.
3.Bake at 180 C gas mark 4 (350 F) for 25-30 min.
1 cup of ff yogurt (80 cals)
blueberries (10 cals)
strawberries (20 cals)
Splenda
1/2 Barbara's bakery granola bar (41 cals)
Stir Splenda into yogurt to taste. Microwave 10 blueberries and 3-4 diced strawberries with a little water and a spoonful of
Splenda, then stir into yogurt. Crush granola bar and stir into yogurt.
Total Cals: 150
Parfait
1/3 cup fat free cottage cheese (60cal)
3 strawberries, sliced into eighths longways (8cal)
2 tablespoons each or blueberries and rasberries (15cal)
1/4 cup fiber one or total (protien edition) (30; 33 cal respectively)
Mix the berries in a small bowl with some splenda. In a parfait glass, I used a wine goblet, layer the cheese, fruit, and cereal. Dig in!! (
about 113 cal total)