Nutritional Info (Per serving):
Calories: 178
, Saturated Fat: 3g, Sodium: 433mg, Dietary Fiber: 2g, Total Fat: 9g, Carbs: 10g, Cholesterol: 217mg, Protein: 12g
1.
3 teaspoon oil, olive, extra virgin, divided
2.
1 small onion(s), thinly sliced
3.
1 cup(s) potatoes, pre-cooked, diced
4.
1 tablespoon thyme, fresh, chopped
5.
1/2 teaspoon paprika, smoked
8.
1/2 cup(s) cheese, Monterey Jack, or Manchego, shredded
9.
3 cup(s) spinach, baby, roughly chopped
11.
1/2 teaspoon pepper, black ground
1. Heat 2 teaspoons oil in a medium nonstick skillet over medium heat. Add onion and cook, stirring, until translucent, 3 to 4 minutes. Add potatoes, thyme and paprika and cook for 2 minutes more.
2. Lightly whisk eggs and egg whites in a large bowl. Gently stir the potato mixture into the eggs along with cheese, spinach, salt and pepper until combined. Wipe the pan clean; add the remaining 1 teaspoon oil and heat over medium heat. Pour in the egg mixture, cover and cook until the edges are set and the bottom is browned, 4 to 5 minutes (it will still be moist in the center).
3. To flip the tortilla, run a spatula gently around the edges to loosen them. Invert a large plate over the pan and turn out the tortilla onto it. Slide the tortilla back into the pan and continue cooking until completely set in the middle, 3 to 6 minutes. Serve warm or cold.
Makes 26 three-inch pancakes at

27 calories each

.
1 1/4 cups sifted all purpose flour
2 1/2 teaspoons baking powder
1. Sift flour, baking powder and salt into mixing bowl.
2. Combine egg and milk; add to flour mixture. Stir only until ingredients are moistened. Batter will be lumpy.
3. Heat a nonstick skillet or griddle until a drop of water dances on the surface. Use a measuring tablespoon to drop level tablespoons of batter on the heated griddle. Bake over low heat until the surfaces of the pancakes are bubbled. Turn and bake other side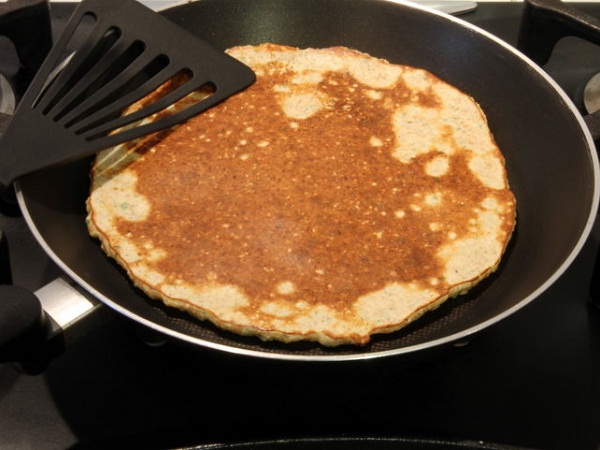 Gourmet Light Omelette
3 servings
-
32 cal each
- 6 g protein - 0 g fat
6 egg whites
1 tbsp skim milk or water
1 tbsp chopped parsley
pepper
chopped or grated vegetables to fill
fresh parsley to garnish
1.Beat egg whites with milk. Season with pepper and parsley.
2.Pour into hot frying pan. Cook on low, turning pan so that soft top is cooked. Continue
until the edges are almost dry.
3. In a non-stick pan, lightly cook veggies.
4.Put in line along centre of omelette and fold in the two edges. Turn over and cook until
light brown.
2 cups chunky salsa
vegetable cooking spray
1/2 cup onions, thinly sliced
2 cups mushrooms, sliced
1 small potato, cut into 1/2-inch pieces
1 clove garlic, minced
1/4 cup water
2 cups fresh spinach leaves, washed and dried
1/4 teaspoon hot red pepper flakes
1/2 cup feta cheese, crumbled
6 corn tortillas
8 cups Romaine lettuce, finely shredded
1. Preheat oven to 375 degrees.
2. Lightly spray 10-inch nonstick skillet with cooking spray. Add pepper and onion and cook until softened.
3. Add mushrooms, potato, garlic, and 1/4 cup water and cook until softened.
4.Remove from heat and stir in spinach and pepper flakes until spinach is wilted.
5.Warm tortillas in skillet, about a minute on each side.
6.Place 1/3 cup vegetable mixture in tortilla and roll up.
Lightly spray square baking pan and place tortillas seam side down. Brush lightly with a little liquid from salsa. Cover with foil and bake for 20 minutes.
7.Divide lettuce among 6 plates and place enchiladas on top. Top with salsa.
makes 6 servings
160 calories per serving
French Toast
2 pcs Low cal/carb bread (80)
2 tsp egg whites (10)
sprinkle of brown sugar & cinnamon (15)
Take the egg whites and add a tsp of water to them and mix up.
Then rub over the whites of the bread. Cook in a non stick pan until browned and serve with lightly sprinkled cinnamon and
Smart Control (something like that) squeezable butter flavored spread (5 cals per tablespoon)
1 slice low cal wheat toast (40 cals)
1 tablespoon Splenda
cinnamomn
Spread warm toast with butter spread. Sprinkle cinnamon and splenda liberally over toast.
Have two slices if desired.
these are
70 calories
and have 6% fat in them. here it is
serves 27 churros

!
vegetable oil
1 cup water
1/2 cup margarine or butter (my suggestion replace with butter buds...less calories and fat free.)
1/4 teaspoon salt
1 cup flour
3 eggs
1/4 cup sugar
1/4 teaspoon ground cinnamon (optional)
Heat 1- 1 1/2 inches oil in pan.
to 360 degrees F.
Heat water margarine and salt to a rolling boil in a 3-quart saucepan.
Stir in flour.
Stir vigorously over low heat until mixture forms a ball, about 1 minute.
Remove from heat.
Beat eggs add them to saucepan while stirring mixture.
Spoon into a cake decorator's tube with a large star tip.
Squeeze 4 inch strips of dough into hot oil.
Fry 3-4 strips at a time until golden brown, turning once, about 2 minutes each side.
Drain on paper towels.
Mix the sugar and cinnamon (optional).
Roll the churros in the sugar (or cinnamon sugar) mixture or dump the sugar on top of the churros.
drink with Pleasure, Instant Hot Chocolate Drink, Options for 68 kcal or drink with Caffe Latte, High Lights, Cadbury for 40 kcals. and walla breakfast! for a total of 137 calories if you have the higher calorie drink!
Southwestern Omelet and Fruit Toast
-Put 1/2 cup egg beaters (or 4 egg whites) (60 cals) mixed with some pepper into a good nonstick pan. Cook until halfway set
and then flip. Put 1 slice fat free lo-cal cheese (the brand I use is 25 cals per slice), 1 tablespoon salsa (5 cals), and 1-2
tablespoons chopped bell peppers (microwave for 20-30 seconds to soften them if you like) (about 5 cals) in the center. when
egg is set, fold and remove from heat. Cover to allow cheese to melt.
Toast 1 slice lo-cal bread (35-45 cals, depending on brand) and spread with 1 serving either sugar free jam or apple butter (10
This is more than many non-anas would ever dream of eating for breakfast: and it comes out to just
140-150 calories
for the
omelette and toast together!
Chicken Cheese Tomato Omelet
chicken (or 1/4 serving) around 35 cals
1/4 tomato around 15 cals
1/2 slice lactose free cheese around 12 cals
2 egg whites 60 cals
add onion, peppers, or any other veggie you like!
the chicken calories vary, definatly use boneless skinless. trim fat. cut into bite size pieces and cook. cut tomato into bite size pieces. add egg whites to chicken, then tomatos. finally add cheese.
Total,

its around 115 calories

.